What Type of Book Editing Do You Provide?
Welcome to EDITMOJO! We offer professional editing in an easy to understand and affordable single package. Our editing focuses on:
What We Offer
Grammar
Punctuation
Sentence structure
Consistency
Pacing
Flow
Redundancy removal
Tense
Dialog correction
Transitions
Clarity
General improvement
Readability
Developmental notes
The developmental notes are provided when we spot an issue or developmental concern as we edit. It's not a full developmental edit but a great additional service to catch any glaring issues otherwise overlooked by proofreading or copy editing.
Who Are You Guys and Why Are You Such Brilliant Book Editing Geniuses?
Well, thank you. We are a small team of editors based in Lancaster, PA and we love books! We all have publisher experience and found a demand for our services online. We branched out and now offer clients direct access to our services at affordable prices.
Our goal is simple: book editing is critical to the success of your book and it shouldn't decimate your publishing budget. Great writers aren't always the best editors and we want book editing to be attainable.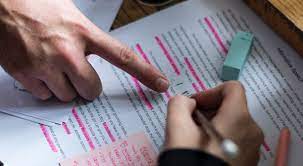 Why Should I Pick EDITMOJO As My Book Editor?
We provide a simple, well-rounded book editing package. The focus is copy editing, but we provide the elements of a proofread, line edit and developmental edit too.
It's the perfect fit for your book because we focus on what you need. But why take our word for it? Try it out yourself with a free sample edit.
Sample Editing
Sample edits are a great way to test your book editor out. Get a feel for what you will get and what they can do for your writing. Most book editing companies will offer a sample edit, and the trick is to compare the samples to see which one fits your needs.
Our Book Editing Process
EDITMOJO provides a full suite of editorial services in a simple and easy to understand single package. We provide proofreading, copy editing and developmental notes (if appropriate). We are careful to keep your voice and style intact, focusing on what you need most.
Once your edit is complete, we provide two Word copies. One with changes shown and the other with changes applied.
Edit and Proofreading Revisions
It's important to go through your edited book manuscript to ensure you agree with the changes made. We may leave notes in the sidebar of the change tracking feature, which can also contain advice, questions about content or recommendations.
These may require additional changes, and our services don't end when we send you the edit. We are here to answer questions and help you address any recommendations. The book publishing process is filled with unexpected twists and turns, maybe some plot holes along the way, so there isn't a time limit on contacting us about the book edit.
We are here to help and improve your work, which is why we offer unlimited revisions to our edits.
Confidentiality and Copyright When Working with a Book Editor
We give all clients a blanket nondisclosure: We don't share or mention anything involving you or your book with any third party. You also get typical buyer rights. You own the work we do that you pay for.
If you want more, we are happy to sign anything you need, and for those wanting that security but don't have the form, we have template nondisclosure forms in the footer of our front page you can use as well as in the buttons below. You own all rights to the paid work we do. If you need additional help, contact us.
Edits Shown in Word's Change Tracker
Our editing services use Word software. Word has a change tracking feature that allows you to see changes made in the document. It's important as the author to see the changes made in your manuscript. Word works in one direction, meaning you can open Word and see changes made in several document software packages like Pages and free software like OpenOffice.
How Long Does It Take You to Edit a Book? – Book Editing
Book editing and proofreading services are a long process. You can't rush perfection! However, if you are on a deadline, let us know. We can accommodate most needs. Self-publishing is a complex act of juggling, and if you have a formatter being held up waiting for the edit to complete, it can get rather frustrating. We get it! Here is a rough estimate:
DELIVERY ESTIMATES
5k words or less – Five-day delivery
5K to 10K – Ten-day delivery
10K to 20K – Twenty-day delivery
20K to 50K – Thirty-day delivery
50K to 100K – Sixty-day delivery
Book Editing
Times may vary, and if you have deadlines, just message us before ordering. We don't offer or charge extra for rush orders. If we can fit you in, we will.
A professional edit is a slow read through, with the goal of quality over quantity. If we can't accommodate your request, we will let you know immediately.
Finding the Right Book Editor
It's hard to find the perfect book editor because unless all your friends are authors, it's not something you will pick up by word of mouth. It's not something you will see on a tabloid headline during checkout. You can't compare apples to oranges either.
Well, you technically can, they're both fruits for a start, but how an editor works with another author doesn't mean they will work with you the same way. So, looking at an editor's previous work won't reflect your work. Due to that, you need an edited sample of your work.
What to Look for in an Editor – Book Editing
You want a book editor that can make your writing come to life while maintaining your voice and style. It's an art and a science to tweak another writer's content to bring out their best writing.
You want an editor that can find an issue and focus on improving it. You don't want to hire an editor that just addresses the issues you hired them for. If you just paid for copy editing, the editor may skip proofreading issues or developmental concerns. That's why we offer a well-rounded editing package that can lean more toward proofreading or developmental editing as needed.
We are two editors and one editing manager/formatter. We are a tight-knit group and have experience with large publishers. We have worked together for over ten years and have collectively over forty years of editing and publishing experience.
We have a proven track record in producing high-quality work polished for professional publication. Our book edits are guaranteed to improve your manuscript, addressing everything from grammar and punctuation to flow and structure. Your finished manuscript will be polished and ready for publication.
Our edits are easy to see in Word's Track Changes feature with clear and helpful notes in the sidebar, when appropriate. The process is seamless.
Affordable and professional. Want proof? Just request a sample edit!
Editing Service Types and Book Publishing – Book Editing
Book editing is a must-have service for authors. Nothing is worse than getting a review that mentions poor grammar. It's difficult for readers to get into your book if they constantly have to overlook mistakes. It gets frustrating, and many readers give up or miss key points.
Book Editing
Book editing is the most critical service a self-published author should get. When a new writer finishes their book, they look at their budget and at the services they need. The typical top four are:
The budget can start to stretch, and maybe some services get pushed aside for others. When it comes down to the quality of a book, it's judged on its content. A great cover means nothing if the book needs editing.
The best marketing in the world will do more harm than good if the book needs editing. Nothing else matters if the foundation (editing) isn't solid.
Fortunately, book editing doesn't need to break the bank. EDITMOJO offers its professional editing service at $10 per 1K words. That's just $0.01 a word!
Book Editing Types and Definitions
Use this section to describe the most important benefit of your product and make sure to describe it in such a way that it's clear who the ideal customer or user for this product is.
Proofreading
Back in the day before something went to print, it would be cast in metal. A proofreader would double-check everything before doing so since deleting something cast in metal wasn't possible. In today's market, a proofreader is a light edit just focusing on grammar and punctuation.
Copy Editing
A copy edit is a catch-all and the most common type of book editing. A copy edit has several subcategory names like mechanical editing and line editing. A copy editor tries to improve the manuscript, with the main focus the removal of redundancies to improve flow.
Developmental Editing
A developmental edit looks at the content level of writing like character development, world-building, plot and subplots. It looks for issues or ways to improve the content. A developmental editor can come in before a book is written, during or after.
Beta Reading
Beta reading isn't a form of editing, but it often gets asked about. Beta readers come in two forms, paid and unpaid.
A paid beta reader will come up with issues whether or not they are a legitimate concern. The best beta readers are free ones. It's a time-consuming process, but what you are looking for are overlapping issues.
If you have five plus beta readers stating the ending of your book didn't work, it might be a red flag. During our edit, we will point out any areas of concern. If it's a story level concern, it might be a good time to bring in some beta readers to get a reader's perspective.
One of the best ways to get free beta readers is to mention a free book in exchange for a beta read on Twitter. You want the book edited first, so they focus on content level issues.
Editorial Assessment/Feedback/Critique
A light version of this is found in a developmental edit. Most editorial assessments look at the content from a publisher's level and critique it based on market demand. If it's a YA vampire romance, it may need more sparkle. It's a look at how well it would sell and what needs to be changed based on market demand.