Formatting your book for Amazon correctly is critical. Amazon is the #1 bookseller and you want your book looking perfect on the platform.
How to Format Your Book for Amazon
Formatting your book for Amazon can be difficult, but some great resources (like this post) can help you get started.
Amazon provides a guide on the formatting of books in their Kindle Direct Publishing portal, which is really helpful. You can check out that info here: https://kdp.amazon.com/en_US/help/topic/G200645680
Why Formatting Your Book for Amazon is Important
Formatting your book correctly for Amazon can increase the number of readers and, in turn, the number of book sales.
For example, if you format your e-book correctly, your chances of getting on Amazon's bestseller list increase by 3%. Formatting your e-book correctly will also help you reach a broader audience – not just those who use Kindle.
It's not just about aesthetics either; formatting affects how people interact with and experience books on any platform.
If readers have a bad reading experience, they are more likely to leave negative reviews. You want to make it easy to read your content.
GOAL
Our goal is to help you publish the best version of your book!
What Are the Standard File Formats for Kindle?
There are many formats for e-books. Likewise, there is a wide range of file formats, but there are three standards that Kindle supports:
1. Kindle Format 8 (KF8): This is the newest file format for Kindle devices and apps. Amazon has designed KF8 to support more complex graphics and other features not supported by its older AZW format.
2. AZW: This is the original file format for Amazon's Kindles, using MOBI as the container format.
3. DRM-protected MOBI: Only books purchased from Amazon can be read on Kindles, and these books come with Digital Rights Management (DRM) protection to prevent unauthorized copying. Amazon is not encouraging the use of MOBI but will still take some versions.
Amazon prefers the KPF file type currently.
What Does it Mean if Your Book is Too Thick? (not spine size or page count)
Thin (paragraph size) books take longer to read, but they provide an easy reading experience. Thick books are the opposite – their long, dense paragraphs make them hard to read. Formatting is the main factor in what distinguishes between thin and thick pages.
What does it mean if your book is too thick? Well, there are a few reasons a book might be too thick. One reason is there may be too many points in the book that dilute the meaning or argument of the author. Another reason is there may be excessive padding of information or unnecessary details.
How to Insert Images in a Kindle eBook File
Images are essential to provide visual interest and to break up the text. In addition, they can introduce new ideas or show the reader something more than just words.
Here's how to insert images in a Kindle eBook file:
For the best results, use the insert image option in your software. Do not drag and drop or copy and paste.
How to Ensure your eBook Looks Professional on Amazon
The first thing you should do is find a book cover designer or create one yourself.
Next, you will want to make sure that the layout of your table of contents, headings and subheadings are not crowded and are well spaced out. This will make it easier for the reader to scan through your eBook without getting overwhelmed by all the information.
Next, when designing your eBook content, use a readable font like Arial or Times New Roman with a size between 12-14 pt. This will make it easier for readers to read on their devices without making their eyes tired from squinting at words in small font sizes.
Traditional Publishing vs. Self-Publishing (Formatting your book for Amazon)
Traditional Publishing: This is the best option for those looking for a large upfront payment and long-term royalties. You'll have to find an agent, but they will take a smaller percentage of your royalties than in self-publishing.
Self-Publishing: This option is good if you're unsure whether your book will sell well but want to try it anyway. You'll have to do everything yourself, but there's no risk and you always keep all rights.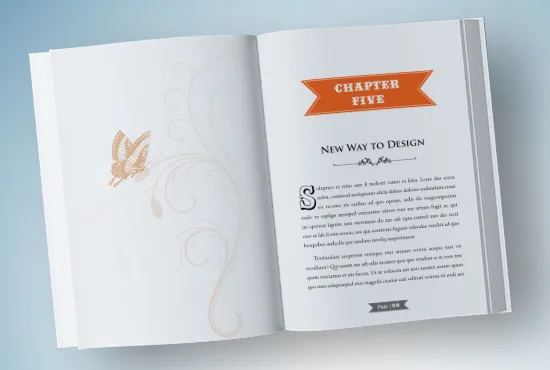 Publishing and Pricing Your Kindle eBook on Amazon
Publishing your eBook is easy. You only need to go to the Kindle Direct Publishing dashboard and fill out the details: title, subtitle, author name, book description, book cover image, price, and language. Then upload your document on Amazon's KDP website or upload it directly from your computer via their Kindle Direct Publishing Uploader.
Pricing your eBook is also pretty straightforward, but you need to consider what other books in that category are priced at and how much profit you're looking for. You have two options for pricing: you can charge a fixed amount or offer different prices based on where the customer resides. You want to price competitively, but if you are the new guy on the block, consider a discount to encourage readers to try your book over the better-selling competitor with more reviews.
List of Different File Types You Might Come Across as a Self-Publisher
Below is a list of all the file types you may come across as a self-publisher.
PDF
The PDF file type is one of the most common and it can be viewed on Mac, Windows, Android, and iPhone. PDF is best for documents that use images or charts because they are interactive and easy to navigate and hold a more detailed layout—for example, having images in text body or boxes and other design elements.
EPUB
This file type is often used for eBooks because it allows readers to adjust the text size, making it easier for those with difficulty reading small print. EPUB also allows publishers to offer an enhanced reading experience with embedded video content or animations (some book vendors).
HTML
The HTML (Hypertext Markup Language) is an older file type that does well with large files or many images. HTML keeps file size low.
Amazon Will Penalize You If You Don't Follow These Rules (Formatting your book for Amazon)
Amazon takes customer satisfaction seriously and it's not joking when it comes to abuse. This is why the company has created a set of rules for sellers to follow.
If your book doesn't look great or provide an excellent reading experience, it will be pulled. Readers can flag books for reader experiences and Amazon will take a look at the book. They will usually let you fix the issue, but they may block it entirely if it keeps happening.
What Not to Do When Formatting for Amazon Kindle Direct Publishing
Amazon Kindle Direct Publishing allows anyone to self-publish their eBooks on the Amazon platform.
This service also provides guidelines for formatting and distributing your eBook. And while it's not necessary to follow all of the guidelines, there are some rules that you should always follow.
Don't use special characters like ā, ç, and Ł. You can still include these in your book, but they must be encoded as HTML entities (e.g., ā). Don't include any graphics or images in your eBook unless they're available for free from sites such as Flickr, Wikimedia Commons, or Creative Commons Search – don't upload copyrighted materials without permission or attribution.
Formatting your book for Amazon
Formatting your book for Amazon