Editing resume services help you put your best foot forward. You have a lot riding on your resume, why not have an expert editor look it over before you hand it to potential employers?
An embarrassing typo or consistency issue can make or break whether your resume is moved to the next stage in the hiring process or not. What about your references? Are they giving the right signals and answering questions so it makes you look good?
Editing Resume – Error-Free
Getting your resume edited to ensure it's error-free shows your professionalism. You want to put your best foot forward. Resume editing is more than just finding typos. It's about improving flow, ensuring consistency and making it look and read as clear as possible. You only get one chance, make it count!
EditMojo's 4 Step Editing Resume Process
The basic necessities of survival for holidays
Copy-editing/proofreading/redundancy removal
A look at how well the resume sells you
A look at any gaps or glaring content issues
A look at the hook and interest level of the resume
You want your resume to be compelling and stand out while being inviting and simple to look over. It's a hard balance to achieve but worth every penny.
Editing Resume Scrutiny
The struggle with picking the best word is real. Wrong word choices can break the flow, sound awkward or pretentious. We scrutinize every word ensuring you look your best. Choosing the right words makes your writing clear and interesting.
Editing Resume
Your writing is the strongest possible
Clarity throughout your resume
Language used is related to the industry
Examples are used appropriately
Are any elements overused or underused
Advanced Editing Resume Services ($100)
Companies change names, addresses and information. Is everything up to date and accurate? Are positions, titles and employment dates accurate?
What about your references? How do they stack up when asked common questions? Want to find out how we rate them? A bad reference can come as a surprise and, if not discovered, can destroy your job searching.
Overall Resume Look
Does the layout look cluttered or organized? What about the font style and size? Would a divider line or other formatting elements help the look and feel of your resume? Does the layout invite the hiring manager to read more or is it a mess?
There is a logical flow to a resume and having a clearly defined layout makes both resume automation sorting software and hiring managers happy.
Even Editors Hire Editors
Why? Because when you work closely on a project, you can't see the work as others do. Very common mistakes are hidden in plain sight.
Having a nonbiased (not a friend) 3rd party look over your resume with a critical eye as a hiring manager would, is a practical approach to submitting your resume and getting the job.
The key is to hire an editor that understands and works with resumes. Our fee for copy editing is $10 per 1K words, which normally covers the word count in a resume, but our resume editing service is much more than a copy edit. We have the standard package for resume editing at $50 and an advanced package at $100, which includes fact-checking and reference qualifying.
The Common Dos of Resume Writing
List out your most relevant achievements. This may result in two or three different resumes if you have variants in the type of job you are applying for. Being relevant is key to grabbing the attention of the hiring manager.
Many companies, even small ones, use automation when tracking applicants. They weed out and sort potential applicants. Common formatting mistakes can flag resumes in these automated systems and reject them for an error even if your resume fits with what they are looking for.
Make sure you list keywords that hiring managers pick up on. Things like communication skills, problem-solving and teamwork abilities.
Get the entire thing to fit on one page. In today's market, hiring managers are seeing a lot more multi-page resumes and it's not good.
The Common Don'ts of Resume Writing
Don't list common or obvious things like experience in Outlook. If your resume is in English, don't mention you know English. Don't take resume advice from a decade ago. We all know how to use computers and type. Keep focused on what's relevant and skip the obvious and common points.
Avoid adding pictures or colors. In some industries, it's acceptable to have a headshot but keep it simple and limited to one. Lines and formatting borders should be minimalist and simple. Unless requested, keep the resume clean of portfolio content or examples and stories. Instead, choose simple links to that type of content with the option to send more upon request.
Skip on design elements that don't add function or clarity. Avoid the passive tense and weak verbs. Resume editing is different than book editing. A resume is one of the most complex documents you will ever come across. And with so much riding on it, you need a professional editor.
How to find a book editor and publisher. Two quick and easy tips!
Editing Resume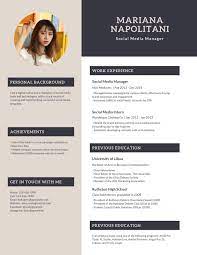 Editing Resume